ODLO: outdoor clothing for active sportsmen and sportswomen
ODLO has stepped up to this challenge and adapted its collections to meet your high demands as an outdoor enthusiast. Our goal is to ensure that you feel completely comfortable during your sporting adventures.
Do you want to go cycling, hiking, running, or cross-country skiing? ODLO sportswear doesn't just stand for the love of sport in the great outdoors: it also symbolises responsibility for the environment.
ODLO: sportswear for all levels of movement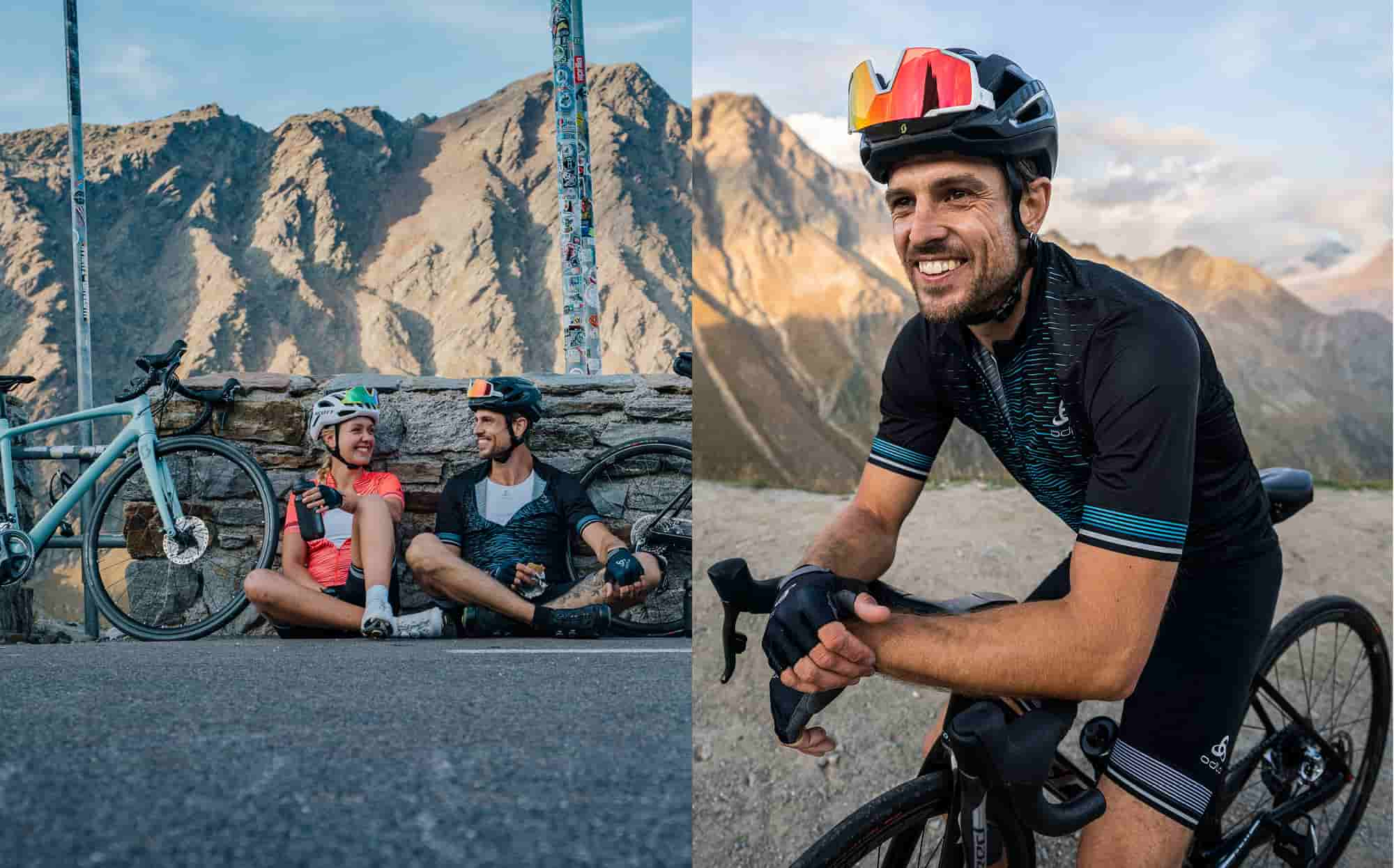 With ODLO, you're on the safe side. For passionate runners, cycling enthusiasts, nature-loving hikers, or snow-loving winter sports fans, exercise and sport in the fresh air help to clear the mind and generate new strength for the tasks ahead.
Athletes and outdoor enthusiasts who adventure into the great outdoors every day require high-performance breathable clothing. Trousers should offer maximum comfort: they must not be restrictive and should ensure an even body temperature. Sweat should be effectively transported away from the skin and absorbed, and constant exchange of air during sports and exercise should be promoted. Cyclists who want to explore the beauty of nature from the saddle and climb mountain passes also require excellent thermoregulation and specially padded trousers.
Advanced Microclimate Management:ODLO's weather-resistant three-layer principle
For your outdoor sporting adventures, play it safe with multiple layers of clothing. ODLO has redefined the three-layer principle for all sports enthusiasts and nature-lovers. To withstand changes in weather and temperature, different functional garment layers are combined to improve the balance between warmth and breathability while giving you full freedom of movement for every season.
ODLO's innovative technologies regulate your body temperature and promote moisture management during outdoor sports. Whether you're climbing snow-capped peaks or enjoying a relaxed jogging session, ODLO keeps you fresh and improves your posture. Discover more
Our functional ODLO underwear for men and women ensures a perfect fit and optimum freedom of movement. The breathable fibres control the climate next to the skin. ODLO bras give the perfect support during sporting activities. Depending on your activity, you can choose from three levels of support to ensure that you find the perfect bra: Soft, Medium, and High.
ODLO will win you with its functional basics and useful accessories, all of which can meet your high demands for comfort and quality in every situation.
Baselayer
Moisture regulation is guaranteed through functional sports underwear for men and women as well as the first layer of clothing, which sits close to the skin.
In its various collections, ODLO offers innovative fabric structures and breathable fibres which quickly wick moisture away from the skin and do not let the cold reach your body. For your first layer of clothing, you can find the right garments for your sporting activities in the ACTIVE (Men / Women), PERFORMANCE (Men / Women), or NATURAL collections (Men / Women). ODLO's baselayers consist of moisture-regulating functional materials such as merino wool or synthetic fibres.
Midlayer
Optimum thermal insulation is the gold standard in outdoor sports. With maximum freedom of movement, your mountain runs will feel almost like a walk, and freezing and shivering will be a thing of the past. Sweat is reliably wicked from the first layer so that the temperature level of your body is not affected.
ODLO offers midlayers such as shirts and vests as well as thin jackets, allowing you to select the right garment according to your personal perception of temperature. If you want especially warm insulation, you can also wear multiple midlayers. Pay particular attention to breathability and optimum moisture dissipation. Innovative technologies like Yakwarm, Ceramiwarm, I-Thermic, N-Thermic, S-Thermic or A-Thermic are suitable for all sporting needs.
Outer Layer
The outer layer serves as weather protection against rain, wind, or snow. Whether you're cross-country skiing through snow-covered forests, enjoying fast downhill runs in the mountains, or jogging in the rain: thanks to the protection of ODLO's outer layer, you will always stay warm and dry. A high level of insulation also protects you in cold temperatures or fresh winds without restricting your freedom of movement.
At the same time, the jackets ensure that you don't overheat even at maximum intensity. ODLO insulation layers are waterproof, windproof, and packable. So you are well protected against the elements. For a low-intensity activity, garments with N-Thermic are the first choice; for high-intensity activities, select insulation layers with S-Thermic.
Accessories from ODLO: Find your perfect companion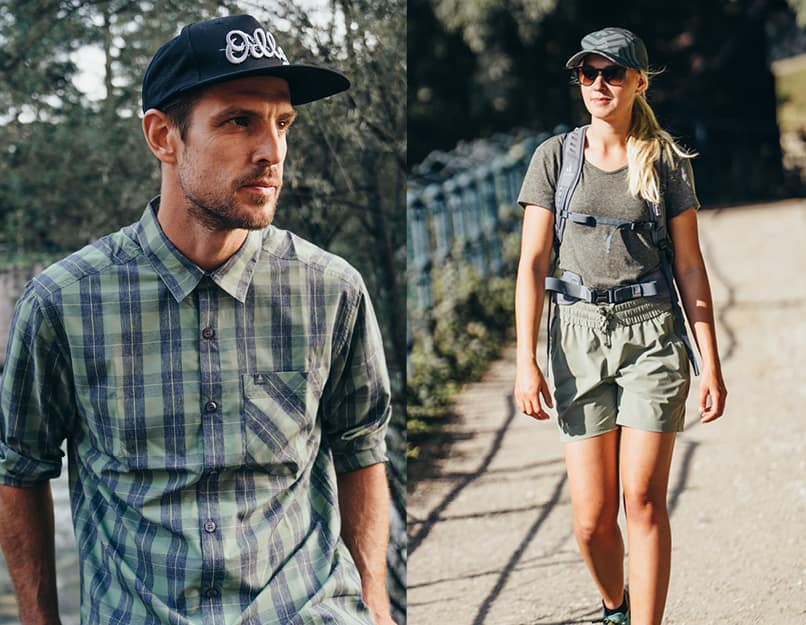 To complete your outdoor outfit, don't forget the extremities. Suitable gloves and headgear protect your hands and head from hypothermia and excessive heat. Even in freezing temperatures, the sun can shine powerfully. Gloves, hats and headbands protect you from overheating and temperature fluctuations.
To ensure that you are always perfectly equipped for your outdoor experience, belt pouches and rucksacks from ODLO are an absolute must. A performance-enhancing snack, your water bottle, and any valuables can be safely stored inside.
ODLO's compression socks are ideal for all sporting activities. They offer a comfortable feel and stimulate blood flow through movement. Gone are the days of heavy legs after a hike or endurance run! ODLO's socks with Ceramiwarm technology offer maximum thermal insulation and support the leg muscles. Areas that are subject to particular stress are especially reinforced.
With ODLO you can get quality and sustainability
ODLO sportswear is designed to meet the demands of both amateur and competitive sportsmen and sportswomen. Whether you're running, skiing, cross-country skiing, cycling, or even hiking, you can enjoy the great outdoors and experience complete comfort with ODLO's sportswear.
Nature in all its beauty is close to all of our hearts. ODLO is a quality-conscious company that takes its social and environmental responsibilities seriously. Our production in Europe is based on the consumption of natural resources and we organise the transport of our goods by sea, road or rail.
ODLO is aware of its responsibilities towards our planet, allowing you to continue experiencing the beauty of nature during your outdoor activities for a long time to come.