For your outdoor adventures, sports underwear is a crucial layer of clothing. It ensures that your skin stays dry all day and insulates your body heat. Natural materials such as merino wool and cotton guarantee a comfortable feel. Combining these with synthetic fibres makes them dry quickly.
Excellent moisturemanagement:
Efficiently wicks moisture away from your skin to keep you dry.
Exceptionally
breathable:
The breathable material composition guarantees a fresh feeling at all times
Natural
temperature balance:
Ideal regulation of body temperature through the use of natural fabrics such as merino wool or TENCEL™ lyocell fibres.
The highest levels
of comfort:
Maximum freedom of movement due to the seamless workmanship of the sports underwear.
WHY DO I NEED SPORTS UNDERWEAR?
Depending on the temperature, duration and intensity of your sporting activity, sports underwear gives you maximum comfort and ensures effective regulation of your body temperature. The main function of sports underwear is to efficiently wick moisture away from the skin so that you stay as dry as possible during your sporting activity. In winter, warming fabrics ensure that you won't freeze. In summer, ODLO's sports underwear has a cooling effect on the skin.
Sports underwear and base layers aren't just for high intensity sports: even at a low level of activity, they help you control your temperature. As the first layer in ODLO's three-layer principle, base layers absorb moisture and dry quickly. Warming materials prevent the body from cooling down in the cold months, while breathable fibres and innovative technologies protect against overheating in hot summer weather. ODLO's sports underwear is ready for use in all weather conditions and will inspire you with high functionality.
Defy the seasons: with ODLO's sports underwear, you can stay active whatever the weather. While thin or sleeveless base layers combined with shorts or knee-length pants are sufficient in summer, winter is perfect for a functional long-sleeved shirt or long pants with a brushed inner layer.
TOPSELLER
For all your sporting activities and for every season, play it safe with sports underwear and base layers. Thanks to innovative technologies and high-quality materials, freezing and sweating are a thing of the past. Moisture is reliably transported, while supportive sports bras offering different levels of support provide a secure hold.
Tops and sleeveless base layers are the perfect choice on hot days, ensuring that your body stays pleasantly cool in summer. If the temperatures drop, you can fall back on practical long-sleeved shirts or midlayers that provide you with more warmth. ODLO offers summer pants either as shorts or in a comfortable 3/4 length. For the winter, long sports pants with a brushed inside offer a high level of comfort.
TOPSELLER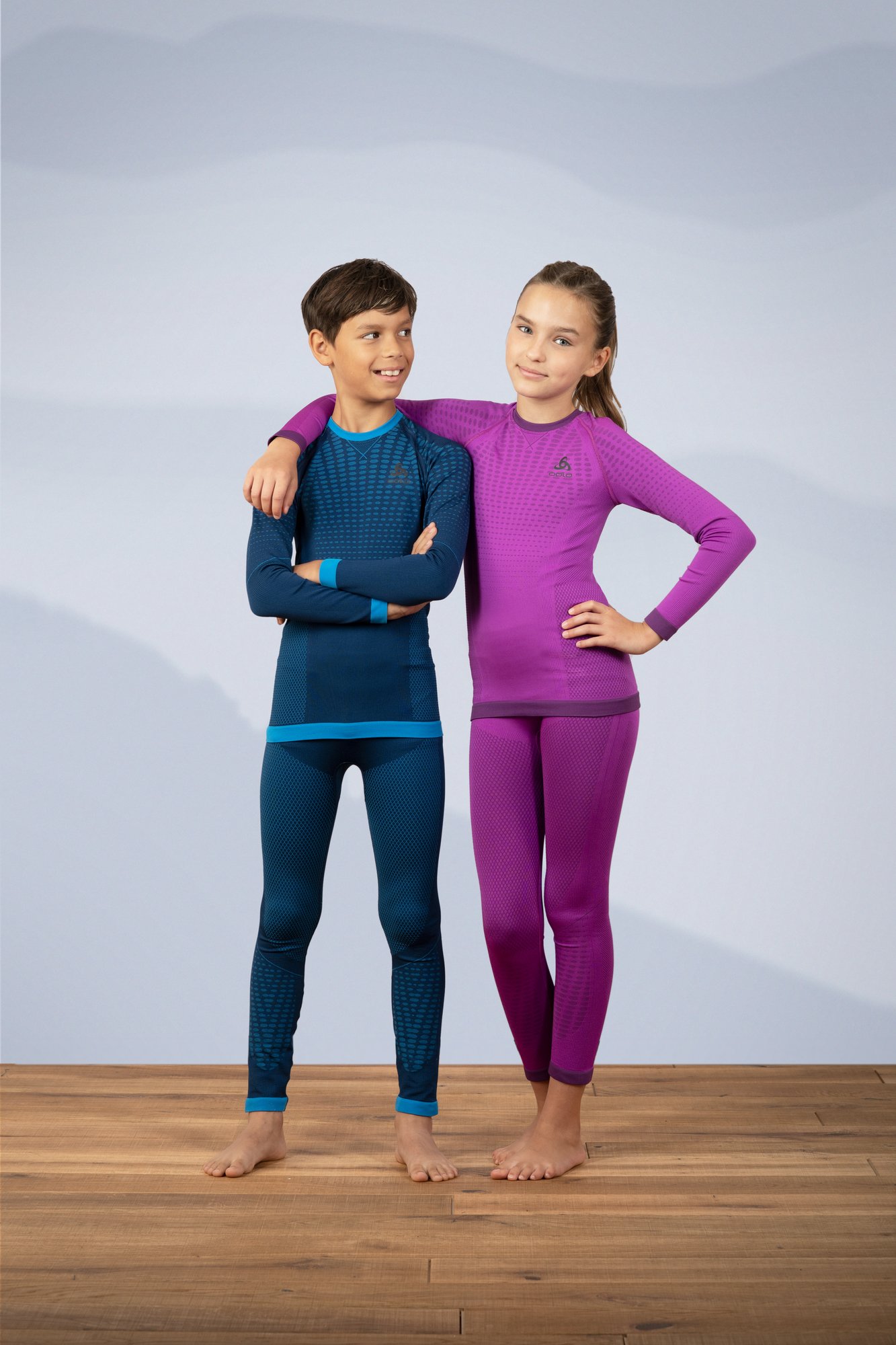 To provide your child with an optimal temperature level during sports, ODLO's sports underwear is the perfect choice. Moisture is absorbed by the skin, ensuring that your child always feels comfortable and dry. Thermal properties also protect little ones from cooling down in cold weather. On hot days, these garments with high breathability make sure that little bodies do not overheat.

TOPSELLER
SPORTS UNDERWEAR BASICS
ODLO's sports underwear features different technologies and high-quality materials depending on the context. Here you will find an overview of the innovative technologies and their effects:
ZeroScent: ODLO has developed this innovative technology to prevent unpleasant odours from developing in the first place during high-intensity activities. Antimicrobial silver ions destroy odour-causing bacteria as they form, preventing them from penetrating the fibres of the sports underwear. With ZeroScent you feel fresh at all times, even during high-intensity activities.


A-Thermic: The new A-Thermic technology provides improved and faster heat insulation, storage and re-emission. In this process, so-called masterbatch chips with nano-carbon particles are woven by hand into the yarn on the inside of the garment. These particles increase the surface area of the yarn and provide increased heat storage capacity. By interacting with natural body heat, they guarantee a superior level of warmth - within seconds. The material also has a super soft feel and is very comfortable to wear. The grid structure of A-Thermic gives ODLO's sports underwear a unique look, ensuring that you can recognise your new underwear at first glance.
Ceramicool: An overheated body can affect your sporting adventure. You may feel less comfortable and your performance may decrease rapidly. When you are wearing CERAMICOOL sports underwear, your skin temperature will drop by one degree as soon as you get active, helping you to achieve the best results even at high temperatures. Ceramic micro-particles in the yarn immediately conduct heat away from the body and the lightweight and breathable material feels great against your skin.
F-Dry: ODLO's F-DRY technology will inspire you during your sporting activities and in everyday life. F-DRY sports underwear is particularly fast drying and comfortably light to wear. The inside, which is made of polypropylene, pushes moisture to the outside so that it can evaporate. The polyester exterior keeps the body exceptionally cool. Thanks to additional anti-odour properties, you can enjoy maximum comfort 365 days a year.
Organic Body Mapping - a seamless construction that meets the different needs of the body
The human body consists of different climatic zones. When exercising, some areas are cool, others are warm, and some parts of the body sweat more than others. On cold days in particular, the body has different needs depending on the type of sport and the part of the body:
Weather protection
Insulation
Moisture transport
Freedom of movement
To meet these - sometimes quite contradictory - needs with just one garment, ODLO works with organic performance zones. While some zones have insulating properties, others are particularly breathable. The innovative 360° movement design also provides extra elasticity at the knees and elbows to ensure unlimited freedom of movement. Compared to conventional body mapping, the transition between these different zones is fluid - and features neither seams nor inserts. The impetus for the latest generation of the Organic Body Mapping concept with fluid anatomical zones was provided by ODLO's partnership with Zaha Hadid Design. The incomparable seamless transitions are the result of ODLO's extensive expertise in seamless weaving technology.
Thanks to an innovative body mapping construction with different zones, Blackcomb sports underwear keeps you warm and dry when you are active in low temperatures - whether you're skiing, cross-country skiing or running. The woven zones merge seamlessly, perfectly adapted to the different insulation and ventilation requirements of men and women.
TOPSELLER
UNDERWEAR CONCEPTS
To ensure that your sports underwear performs to its full potential, you can choose your perfect garments from the NATURAL, ACTIVE and PERFORMANCE underwear lines. Both the weather conditions outside as well as your personal preferences play a big role. All of ODLO's sports underwear has one thing in common: the transportation of moisture from the inside to the outside is guaranteed, ensuring a comfortably dry feel during all sports activities. Innovative technologies and the combination of natural fabrics with synthetic fibres ensures moisture absorption and fast drying. The lightweight materials feel pleasant against the skin, and the seamless finish prevents pressure points and friction.
With the NATURAL sports underwear line you can enjoy super soft and comfortable sports underwear, including long-sleeved shirts, T-shirts and base layer pants, featuring a high proportion of merino wool or TENCEL™ Lyocell fibres. The natural fibres ensure optimum moisture regulation and guarantee that unpleasant odours do not penetrate the material in the first place. During high-intensity activities such as skiing, cross-country skiing or running, you will be comfortably warmed and your skin will stay dry.
For the cold seasons, you can opt for base layers from the WARM level of insulation, and for hot days you can fall back on the LIGHT sports underwear. Integrated ski masks in base
layers provide additional thermal support, as body heat can also escape through the head.
Sustainable TENCEL™ Lyocell fibres are not just especially hard-wearing and durable: the material also regulates the body temperature and has an antibacterial effect against odour formation. In summer and winter, you will feel fresh all over during your sporting adventures. TENCEL™ Lyocell fibres of botanical origin set a new standard in terms of sustainability and natural comfort.
The various underwear lines in our NATURAL collections are made from environmentally friendly merino wool. In winter, merino wool feels super soft while also providing natural thermoregulation and odour control. These garments therefore provide maximum comfort and style for both physical activities and relaxation.

TENCEL™ Lyocell fibres of botanical origin set a new standard in terms of sustainability and natural comfort. They are the perfect choice for hot days.
ACTIVE sports underwear is the first choice for medium to high sporting intensity. It offers optimal climate regulation, excellent moisture management in the removal of sweat, and is comfortable to wear. Whether you're out for a run or treating yourself to an unforgettable day on the ski slopes, your ACTIVE sports underwear will give you the necessary security and maximum freedom of movement.
Warming base layers with long or short sleeves and bottoms in different lengths are available in the three warmth levels (LIGHT, WARM and X-WARM), while undershirts, briefs and boxer shorts complete the ACTIVE sports underwear range. The innovative ZEROSCENT technology ensures that unpleasant odours do not even penetrate the material and you always feel fresh. Comfort and maximum freedom of movement are guaranteed with this sports underwear.
ACTIVE sports underwear and base layers are designed for athletes who perform medium to high-intensity sporting activities and are looking for maximum moisture transport and constant thermoregulation. The seamless structure provides unparalleled comfort throughout your session.
The Active Spine innovation combines cutting-edge biomechanics with quality craftsmanship to improve your posture both in the gym and in everyday life.
The PERFORMANCE underwear line supports you during high-intensity sports and is especially effective when it comes to climate regulation and moisture management.
Three different heat levels - X-LIGHT, LIGHT and WARM - ensure that your body has the warmth it needs when skiing or cycling. Choose from long-sleeved shirts, tights, and T-shirts from ODLO.
For warm days, shorts or ¾ pants are perfectly sufficient for avoiding sweating even at peak performance. Moisture is reliably absorbed and the drying process is fast. In winter, sports underwear provides you with excellent insulation. Both shirts and pants are equipped with a thermal layer. Briefs and underpants round off the PERFORMANCE range of sports underwear.
PERFORMANCE sports underwear and base layers are designed for athletes who perform medium to high intensity sports and are looking for maximum moisture transport and constant thermoregulation.
The seamless structure provides unparalleled comfort throughout your session.
For women, the sports bra is an essential piece of clothing. The right choice depends on your sport and your level of movement. ODLO offers three different levels of support. Light exertion (such as Yoga or Pilates) requires less support for the chest - unlike high-intensity activities such as running, skiing or martial arts.
Low impact loads can be absorbed with ODLO's SOFT sports bras. The chest is securely supported and on warm days you can wear your sports bra without a base layer. MEDIUM sports bras are reinforced around the straps and offer additional support when cycling or cross-country skiing. For long-distance runs, a HIGH sports bra is the right choice. Reinforced cups and extra wide straps provide secure support for large and small breasts during high-intensity workouts.
Due to the seamless finish, there is no friction or pressure against the skin, even during high-intensity training. Crossed straps or bralettes with a full back give good support to the chest.
Exercise helps you to get your body in shape: only your bust can lose its shape without the right support. Even low-intensity jogging requires a high-performance bra. That's why a suitable sports bra is an important part of every woman's exercise outfit - regardless of the bust size.
ECO: SUSTAINABLE SPORTS UNDERWEAR
"Be Aware of What You Wear": this is ODLO's motto, designed to get you excited about sports underwear that is sustainable and environmentally friendly.
PERFORMANCE WARM has now become PERFORMANCE WARM ECO. Highly practical base layers and pants are made from recycled materials: 90% recycled elastane from production waste and 50% recycled polyamide from manufacturing waste.
The ACTIVE WARM underwear line has transformed into ACTIVE WARM ECO and consists of 100% recycled polyester.
With the sports underwear of the ACTIVE WARM ECO line and the pants and shirts of the PERFORMANCE WARM ECO line, there's no need to compromise on functionality. Despite the new mindset of making these underwear lines sustainable, they are still breathable, moisture-wicking, and insulate your body in cold temperatures.
TEMPERATURE CONTROL SYSTEM
ODLO's sophisticated Temperature Control System (TCS for short) is crucial for the functionality of its sports underwear all year round. Four different insulation levels ensure optimum thermal regulation - cooling or warming - and also keep the skin dry. With ODLO, you can choose your sports underwear according to the intensity of your movement and the weather conditions, ensuring that you are protected from hypothermia and overheating.
X-LIGHT: This highly breathable sports underwear guarantees excellent moisture management and keeps your body pleasantly cool.
LIGHT: This functional underwear is suitable for sporting activities all year round. It reliably absorbs moisture.
WARM: Perfected for winter sports, this sports underwear features excellent warming properties and regulates moisture transport.
X-WARM: In extreme cold, special inserts protect the areas of your body that are most sensitive to temperature. The breathable material guarantees effective moisture transport
X-LIGHT
Keeps the body cool and dry. Highly breathable and lightweight sportswear for high temperatures and intensive activities. With high moisture transport
LIGHT
Maximum comfort in all situations and whatever the weather. Versatile sportswear for the whole year. With high moisture transport.
WARM
Highly functional sportswear with good thermal insulation. For all winter activities. Allows for good moisture balance. Keeps the skin dry and warm
WHICH SPORTS UNDERWEAR SHOULD BE WORN FOR WHICH SPORT?
Wintersports
Sports underwear is one of the most important layers of clothing on the slopes or the cross-country ski run. It must be highly functional, have thermal properties, and reliably wick moisture away from the skin. This ensures that you always feel dry during your winter activities. In addition to synthetic fibres that serve to regulate the body climate, sports underwear has a thin warming layer of merino wool. Not only is the body temperature insulated, but additional heat can also be generated if required.
A-THERMIC sports underwear features impressive heat-reflecting nano-carbon particles that can increase the body temperature by up to three degrees. With the BLACKCOMB models, you can enjoy maximum freedom of movement. Integrated ventilation zones ensure a perfectly balanced body temperature.
HIKING & TREKKING
To ensure that you get maximum enjoyment out of a long trip to the most beautiful mountain peaks, your sports underwear must offer optimal moisture transport so that you neither freeze nor sweat. At the same time, you need maximum freedom of movement. LIGHT sports underwear provides you with excellent support in your endeavours. The lightweight material guarantees a comfortable feel when worn, and you will hardly notice the clothing against your skin. Sweat is absorbed and the body cooled as the material provides effective moisture regulation.
The F-DRY technology means that your base layers will dry quickly. Innovative ZEROSCENT technology and natural TENCEL™ Lyocell fibres ensure that unpleasant odours don't stand a chance during your Alpine excursions, inhibiting odour-causing bacteria as soon as they begin to form.
RUNNING
For the right running clothes, it is important that sports underwear fits like a second skin and guarantees maximum freedom of movement. A daily jog is a high-impact activity that will have you working up a sweat in no time. To prevent this from affecting your body climate, sports underwear must quickly wick away moisture and ensure that it dries.
ODLO's sports underwear does just this. In addition, CERAMICOOL base layers cool your body down by one degree on hot days. This has an effect on the whole body, helping you to become more efficient. On very cold days, there's no need to miss out on your run: sports underwear with insulating properties helps to prevent your body temperature from dropping.
CYCLING
Technical underwear for cycling must be highly breathable and moisture-regulating. To ensure you can enjoy your biking trip to the full, ZEROWEIGHT sports underwear is perfect. It is made of particularly light polyester and a high proportion of elastane, and is optimally adapted to the needs of cyclists. The soft material won't restrict your movement and ensures an excellent body climate.
WINDSHIELD sports underwear is windproof and conducts excess body heat and moisture away via the back. With cycling in particular, it is essential that you can more intensively without restrictions, even in the ODLO three-layer principle. The high level of comfort provides you with maximum freedom of movement. With ZEROSCENT technology, unpleasant odours don't stand a chance, and are effectively neutralised.
THE RIGHT WAY TO CARE FOR SPORTS UNDERWEAR
ODLO prides itself on developing sustainable products that are durable and multifunctional. We mainly work with synthetic fibres, but also use natural materials such as wool and down. We subject all materials to the same high standards of quality.
GENERAL NOTES:
Please follow our general recommendations in order to enjoy your ODLO product for many years to come. The specific care instructions for each garment can be found on the sewn-in care label:
You can also find further care instructions for your ODLO garments here:
Sportswear should not be washed until it has been worn two or three times, unless it is too dirty. Try to air out the laundry in between. This keeps sports underwear effective for longer.
Always turn garments inside out before washing. This ensures that colours and prints are retained for longer.
Fasten all zippers, buttons, Velcro, etc. This allows fabrics to be washed more gently.
We recommend using only mild liquid detergents with an eco-label. Please follow the dosage recommendations. Excessive doses of detergent require more intensive rinsing, which affects the functionality of the material.
Do not use bleach to prevent discolouration and loss of functionality.
To maintain functionality, do not use fabric softener.
If possible, do not tumble dry (except for down products: see special care instructions).
Do not iron if possible. Iron inside out if necessary.
Who wears our Sports Underwear?
ODLO X TSL Trail Running Team
Beginning in Spring 2020, ODLO is the official supplier of the TSL Trail Running Team. The team consists of four passionate runners (two women and two men) from France competing at an international level in trail running, ultra-trail and other endurance disciplines.
N1NO SCHURTER - Champion of the World
Together we celebrate and raise the bar higher every time we succeed. At ODLO we are committed to creating premium performance sportswear for sport enthusiasts. In doing so, we are proud to work with athletes, teams and ambassadors who share the same drive for performance, passion and innovation.
Kate Courtney - professional MTB racer
Kate Courtney is a professional MTB racer for the Scott-SRAM MTB Racing Team. Get to know the current XC World Champion and learn where her passion for food comes from.
How does the three-layer principle work?

With the three-layer principle, or Advanced Micro Climate Management, you can choose highly functional and breathable sportswear for any weather and any level of activity. The different clothing layers offer moisture regulation, thermal insulation, and weather protection, and can be individually adapted.

Base layer and sports underwear: This layer of clothing is in direct contact with the skin and is responsible for temperature management, moisture regulation and drying. Technical underwear consists of functional fibres and innovative fabrics.

Midlayer: The lightweight materials of midlayer shirts and vests are designed to insulate your body and provide it with warmth. At the same time, they absorb moisture from the first layer and offer you a high degree of freedom of movement.

Outer layer: With the right weather protection, moisture, wind and cold are kept away from your body. Breathable fabric structures prevent overheating, while excess heat and moisture are conducted towards the outside.

How sustainable is ODLO sports underwear?

ODLO is mindful of its environmental responsibilities and social working conditions. Sustainability has always been an essential component of ODLO's DNA.

Fair pay and compliance with codes of conduct are paramount. ODLO is committed to the implementation of guidelines and the observance of human rights. As a leading member of the Fair Wear Foundation (FWF), we are committed to improving working conditions in the textile industry.

The production facilities for our entire range are designed to meet the latest environmental regulations. They are located in Europe and we use rail transport as our most significant transport route.

The materials used in our sports underwear consist of natural and organic fibres as well as synthetic fabrics. You can find out the composition of individual garments as well as the most environmentally-friendly care instructions by consulting their label. If you pay attention to these instructions, you will be able to enjoy your ODLO sports underwear for a long time to come. With all these measures, we are making an important contribution to sustainability.

What are the advantages of the different materials?

The combination of natural fibres with synthetic fabric is not new in the production of sports underwear. This approach ensures breathability, temperature control and moisture management to keep you comfortable during all your sporting activities.

ODLO's sports underwear is made of a high-quality blend of materials. Merino wool (sometimes combined with synthetic fabric) is known to have warming properties. The synthetic fibres polyester, polyamide and polypropylene are impressive thanks to their fast moisture absorption and quick drying properties. A proportion of elastane ensures maximum freedom of movement.

How can I determine the perfect fit for my sports underwear? (slim fit, fitted,)

In a way, sports underwear represents your own personal air conditioning system. Depending on the weather, it must either cool down or warm up your body and wick away moisture. It is therefore especially important that it fits snugly against the skin to ensure maximum functionality. Even if worn several times, it must not wear out. On the other hand, if your sports underwear cuts into the skin, is too tight, or causes pressure points, its functionality will also be compromised.

When you try on your sports underwear, it needs to fit like a second skin and give you maximum freedom of movement. If you feel uncomfortable, you should opt for a model that offers a more comfortable cut.

How can I adapt my sports underwear to the temperature outside? (X-LIGHT, LIGHT, WARM, X-WARM)

ODLO's sports underwear is available in four different levels of insulation. Choose sports underwear that feels comfortable for you, depending on your level of activity and the prevailing temperatures outdoors.

X-LIGHT: For low-exertion activities, this functional underwear is perfect for temperatures between 25 and 30 degrees. For high intensity, you can wear them above 10 degrees.

LIGHT: Select this option for temperatures between 5 and 25 degrees if you are planning mild to moderate exercise. For more high-intensity exercise, it is the perfect choice for temperatures of -5 to 15 degrees.

WARM: This sports underwear functions most effectively for low-intensity activities at temperatures of -10 to 15 degrees. For high intensity sports, a temperature range between -15 and -10 is ideal.

Thanks to the use of additional inserts, this functional underwear will keep you comfortably warm during low-intensity activities between -30 and -10 degrees, and at temperatures of -30 to -25 degrees for higher-intensity exercise.

Which sports underwear should I wear for summer motorcycling?

Motorcycling might not seem like a sport at first glance, but it demands a high-intensity performance from the body. Especially during summer, when the sun is blazing, the body develops its own climate beneath the heavy protective clothing that is worn by bikers. You'll break a sweat in no time at all. You should therefore choose sports underwear that ensures moisture is quickly absorbed and that your clothes and skin feel dry. Odour-inhibiting technologies are an additional advantage. Sports underwear, which offers high freedom of movement, can be worn beneath motorcycling clothing, which is more rigid. Lightweight and breathable material is hardly noticeable and offers high comfort. Motorbikers mainly hit the road during summer, when temperatures are high. With LIGHT or CERAMICOOL sports underwear, you have nothing to worry about.

Which sports underwear should I wear for winter sports?

Icy winds, snowfall and low temperatures will quickly chill your body. However, when it comes to winter sports, such as skiing and cross-country skiing, you are on the move all day and need sports underwear that offers support at different intensities.

When cross-country skiing, your muscles will often be cold to begin with, but after just a few minutes you will start to sweat. Your sports underwear should quickly wick moisture away to the next level of clothing, and a thin insulating layer should help to maintain your body temperature. WARM sports underwear with a thin but warming layer of merino wool is excellent for this. On the slopes, intense phases alternate with phases of less movement. If your sports underwear is too thin, you'll soon freeze when using the ski lift. Again, your body needs to be sufficiently warmed. At the same time, moisture must be reliably transported to the next layer of clothing. Our BLACKCOMB base layers have strategic ventilation zones and are equipped with additional ski masks for especially cold days.
Sports Underwear in the ODLO Blog
Find your perfect Sports Bra
Unfortunately, this is how it goes: sports help us get in shape, but can also distort the shape of our breasts if done without a good sports bra. Even jogging can be a high intensity effort for the breasts. That's why wearing the right sports bra is so crucial for every woman – regardless of her size. Let go of your worries and concentrate fully on your performance with functional yet stylish training gear that provides the best fit and support for you.
Sustainable Sports Underwear - We care for our Planet
Our classic baselayers has been redesigned with a whole new mindset: to offer the best quality while reducing the environmental impact to a minimum. By using recycled PET bottles and repurposed production waste we created our new Performance & Active Warm ECO-Collection for this winter. The 100% Natural Warm Merino Styles made from soft merino wool completes our seasonal ECO-Range.
Finest merino wool & ultimate comfort in Norwegian design
Merino wool is extremely popular thanks to its natural thermoregulation and odour control. In addition to our simple NATURAL 100% Merino Warm functional underwear, which, as the name suggests, is made of 100% merino wool, ODLO has created the Natural Kinship line, a trendy functional underwear which perfects the mix of merino wool with synthetic fibres. With Natural Kinship you don't have to sacrifice function and still look stylish!